Ripley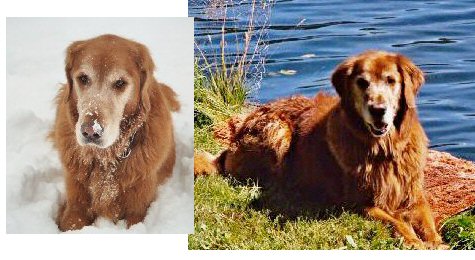 A call from Carol Thompson recently, prompted me to check the I.E.G.R.R. website which I hadn't done for a while. There I saw the letters from owners of rescued Goldens and read their stories and tributes to their beloved companions. While my story isn't much to tell, I would rather this be a sincere thank you letter to the older couple who placed their "Cinnamon II" with the I.E.G.R.R. in 2000 when they could no longer handle their dog's size and strength.
My previous nine-year old Golden was put to sleep in September 2000 when the cancer in his pelvis became too much. Within a month I started the search for another adult dog. When I called on an ad in the Spokane paper I found out about the I.E.G.R.R., and met six-year old "Cinnamon II" at his foster home. He was big (90 pounds), beautiful dark red coat and excited and happy. I decided right then to adopt him and take him home to Wenatchee.
"Cinnamon II" became Ripley and he has had a good life and is still going strong at 12 years PLUS! He learned to swim, loves the water and going for rides on my sailboard with me. Rip enjoys camping and sleeping in the tent. He never really did like playing with a tennis ball but loves to chew up his stuffed toys. While he hates cats, he goes nuts over kids, loves laying in the snow and chasing his tail. He's the sweetest dog I've ever met and he loves to be loved.
So to the older couple who made the difficult decision to put their "Cinnamon II" up for adoption, I thank you for letting me bring him into my life. He is at my side for our walks, in the back seat for our trips in the truck and hogging the bed during the cold winter nights. While just a dog, he is my family and I love him dearly. Thank you again for your precious gift. He has had a full and happy life and I was so lucky to have found him. Thank you.
Joan Broomell, East Wenatchee, WA
---
Buck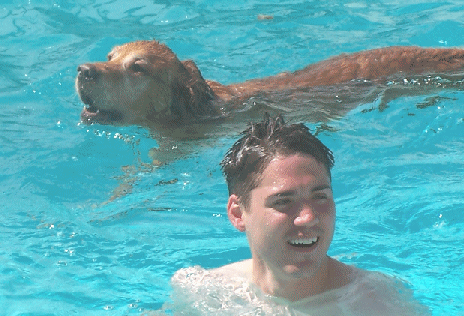 Hi. I adopted a golden from your organization about 6 years ago named Buck.
Buck was when I met him a very thin but regal dog. He was a very large red golden with a big head and a heart of gold right from the first minute. He was a quiet and gentle lover to all. Most of all he was my buddy. He made sure that when I was blue he was right there giving me love and trying to cheer me up. When I was happy he was right there celebrating life with me. He was loyal beyond description. He loved sleeping on the kitchen table when I was gone. I would drive up and see him jump down as he saw my car. I never let on that I knew. He was a bed hog and made sure every night he had enough room to sprawl out and be comfortable. He touched the lives of everyone he met and people recognized his specialness immediately. Buck was all heart, soul, and love. Buck was the most gentle, sweet, loving dog I have every met. He came into my life and stayed the course by my side. The joy and happiness and companionship Buck brought into my life was priceless.
Buck about a year and a half ago started dropping weight. After many tests the vet found out his pancreas no longer functioned so he was suffering from Pancreatic Insuffiency. We tried all the treatments out there and spared no cost. While most dogs respond to the therapy Buck did not. He kept dropping weight and getting progressively weaker. Buck until the very last day lived his life with great dignity never letting his deteriorating condition stop him from being there for me. Buck passed away on May 11th at the age of about 8. His spirit will always live on in my heart and I have beautiful memories of this exceptional dog that came into my life for a short time.
I miss Buck more than I can tell you. I turn on anything that makes noise to try and drown out the silence of the absence of his presence. I wanted to share this with you and feel free to share this on your website if you would like. Buck was a Golden from God and as I mourn his loss I shall celebrate his spirit everyday in honor of him. I shall carry on with the elegance, spirit, heart, soul, loving that Buck so graciously and patiently taught me. To all those who never met my Buck or have a Buck of your own you all know how I feel. And to my sweet Buck who is now looking down on all of us wagging his tail of course: I love you big guy and I will carry your love and spirit with me in my heart. Love you Buck! Keep wagging that tail buddy!
Thanks to all of you that work with these goldens finding them good homes! I applaud your work and want to thank you from the bottom of my heart for giving me my Buck.